Hello Candidates,  Hope you are doing well. Today we have come up with a very useful concept called What is Google Analytics. This concept will be useful for both bloggers and website owners.
Many of the bloggers would know about Google Analytics. But beginners can make use of this blog to understand the entire concept of those who don't have any idea about the Google Analytics website. In this blog, you can find more interesting and basic information about what is Google Analytics concept.
Blog Contents
Introduction
History of Google Analytics
How to use Google Analytics?
Latest Updates of Google Analytics 2022
Final Conclusion
Above are some of the blog contents which helps you to understand the concept of What is Google Analytics in an easier way.
Introduction
As mentioned before, blog beginners and website beginners who don't have an idea about Google Analytics Tool can follow the entire introduction part to get better knowledge on What is Google Analytics concept.
What is Google Analytics?
Google Analytics is a service offered by Google that tracks and reports website traffic and blogs traffic.
Along with that, Google Analytics is the most widely used Web Analytics Service on the Web. In addition to that, This service can gather data from both IOS and Android App which is known as Google Analytics for Mobile Apps.
Google Analytics is a very important service or tool that every website owner should make use of. Beyond this, there are lot more reasons to use Google Analytics.
Out of them, we are sharing the top reasons why we should use Google Analytics Web.
You can create Customizable Reports
This tool or service is very Easy to use
Can track Live Visitors
Can track entire website traffic
Helps to understand the Bounce Rate
Automatic Collection of Data
Its free of Cost
Go through the above Reasons to know about Google Analytics clearly.
Who can use Google Analytics Service?
As we said before, all kinds of website owners can make use of Google Analytics. And bloggers can check the traffic and visitors of a particular blog with the help of Google Analytics.
Despite this, Google Analytics is the best business development tool for all kinds of business websites. Because, it will allow us to track the number of visitors, bounce rate, top viewed pages etc. By this, we can understand what changes can be made to our business website.
History of Google Analytics
Following is the brief History of Google Analytics.
Google acquired Urchin Software Corporation in 2005
The system also brings ideas from Adaptive Path, whose product, Measure Map, is acquired and used in the redesign of Google Analytics in 2006.
Google continued to sell the standalone, installable Urchin Web Analytics Software through a network of value-added resellers until discontinuation on March 28, 2012.
In October 2012 Google Analytics announced a another new version called 'Universal Analytics', the key differences from the previous versions were: cross-platform tracking, flexible tracking code to collect data from any device.
After that, In March 2016, Google released Google Analytics 360, which is a software suite that provides analytics on return on investment and other marketing indicators.
There after, In October 2017 Google Analytics introduced a new version called Global Site Tag.
In June 2018, Google introduced Google Marketing Platform, an online advertisement and analytics brand. It consists of two former brands of Google, DoubleClick Digital Marketing and Google Analytics 360.
Click Here to know the detailed info about Google Analytics History
What is Google Analytics & How to Use it?
Many of the beginners are not aware of using Google Analytics Web. Such candidates can follow the below step by step procedure and export the reports of your website. Let's get started.
Go to com/analytics and create an account.
Set up property in to Google Analytics Account. Here Property means your website or App.
Set up a reporting view in your property. Views let you create filtered perspectives of your data
Follow the instructions to add the tracking code to your website or mobile app so you can collect data in your Analytics property.
After completing the above steps Configure your account, properties, and views to determine access to your data and which data is available.
Still, we need to complete a few more steps to use the Google Analytics tool in an effective manner. Click on the below link to know the remaining steps and each usage of Google Analytics.
Google Analytics Steps/Google Support for Google Analytics
Latest Updates on Google Analytics 2022
Google Analytics will have regular updates regarding the algorithms, design, features etc. All the updates that took place will improve the site effectiveness and usage.
More it is getting updated; more will be the benefit for the bloggers and website owners. Along with that, it will be easy for the users to use the Google Analytics website for many aspects.
So, let us see the Few Updates of Google Analytics 2022 available below. Go through them thoroughly.
Summary Vs Site Usage View
One of the best Google Analytics Updates is, you can see the default summary view in any standard report. The Summary view starts out with the basics you would normally see like Bounce rate, Visits etc.
After that, you can see Conversions which will show Conversion Rates, Value of Goals you set up etc. The Dropdown menu can be used to choose other goals and their data.
This update has clearly shown that now there is concentration on Conversions. So, still, if you don't set up your goals in Google Analytics, it is the right time to start.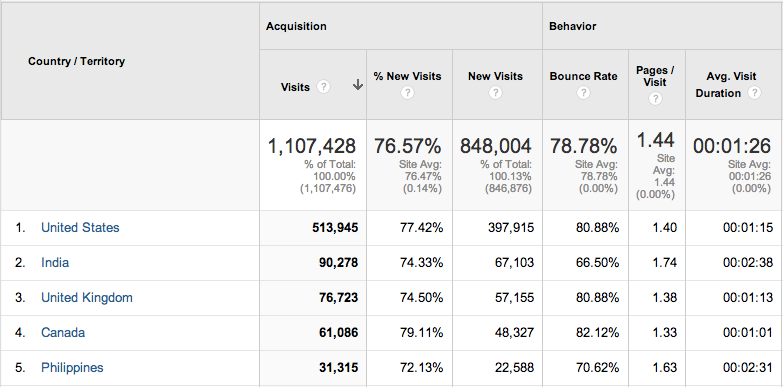 The new Behavior section is home to what was previously under the Content heading. Unfortunately, the All Pages view under Site Content still doesn't link your top trafficked pages to your conversion data.
However, Landing Pages does, so you can at least see how many conversions you receive when someone comes to your site and lands on a specific page.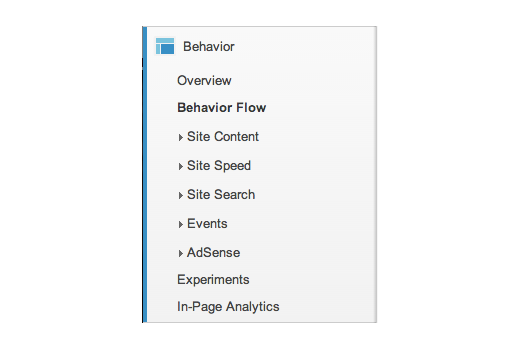 Google Analytics admin emails sent to Search Console users in latest bug
Google has mentioned that it has fixed the bug that was active between November 12 and 13. The latest update was, Google started notifying some Google Analytics Administrators about a bug in the automatic owner verification process between Google Analytics and Google Search Console.
Google has also said that no other data was disclosed except email address and also there has been no other unauthorized access to your Google Accounts and Search Console accounts as a result of this bug.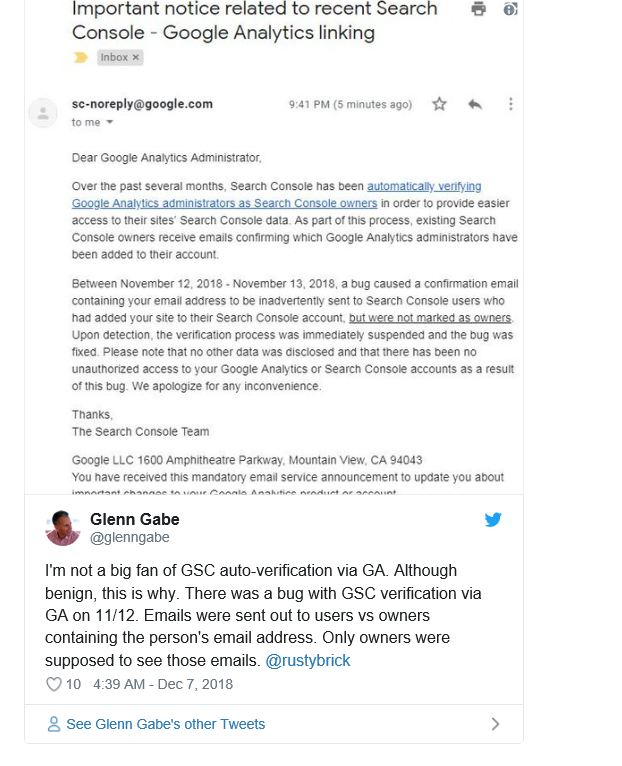 Click Here to know more about this update
Google Analytics Education
At present, you can find the little help files on most of the sections of Google Analytics Layout. We can use these help files to learn more things such as how to interpret data in Google Analytics etc.
Especially beginners can learn so many things from these help files like How to use Google Analytics like a Pro etc. And pros can learn about new updates like new pieces of data and reports in Google Analytics.
So, above are the some Latest Updates regarding Google Analytics. We need to keep ourselves updated in order to use this tool in a much more effective way. So try to follow the Google Analytics Updates regularly.
Click Here to check more Updates on Google Analytics
Final Conclusion
In final, we want to conclude that Google Analytics was a power tool provided by Google for multiple purposes like website growth, business growth etc. So make sure that you use Google Analytics for a better online advertising experience.
Still, if you have doubts about Google Analytics, comment on them in the below comment section. Also, follow the remaining blogs of Digital Aroma regarding Google Analytics and Business Promotions.
For more information on digital marketing services in Vijayawada and our packages