Are you a blogger? And wants to make your blogs more effective? Facing hurdles while tracking your blog reports? Then this article is for you. In this article, you are going to find complete information about Google Analytics for Bloggers. By reading this article you will come to know some tricks and techniques regarding tracking your website and blog reports. So, follow the complete blog without any skip for detailed info.
Blog Contents
Introduction
What can Google Analytics do?
Why Google Analytics?
How Google Analytics will help Bloggers?
Google Analytics for Bloggers (Guide & Steps)
Google Analytics Metrics that bloggers should follow
Final Conclusion
By seeing the above contents itself you can understand how effectively the content is enclosed in this article. So let's get started with Google Analytics for Bloggers.
Introduction
Bloggers who are not aware of Google Analytics are suggested to read the introduction part for sure.
What can Google Analytics do?
We cannot say a particular thing about Google Analytics. Overall we can say one thing that Google Analytics is the best website to track your website report in all terms.
So let us see a few awesome things that Google Analytics can do:
You can track the live data i.e. who are seeing your website
Export monthly traffic reports
Check the bounce rate of each and every page or URL
Track number of visits per day/ hour/ month etc
Demographics
Referrals and Resources
Much more…
Above are the few awesome things that can do Google Analytics for bloggers. But in a short, we can say that Google Analytics Website Tool will do a lot more.
Every blogger will have a wish to track his blog and get the exact genuine reports of his/her blogs. In this case, Google Analytics will perform its best to provide genuine reports of our website in each and every aspect.
Along with this, we can make notes where the bounce rate is high and update those pages by making necessary changes. These are the two reasons for using Google Analytics Tool.
Another excellent feature is, we can track the live audience, for which page the more number of audience are interested in etc.
How Google Analytics will help Bloggers?
As we said earlier, there is no one reason to use Google Analytics. This awesome website will help bloggers in many aspects.
Writing a lot of blogs and uploading will not make any sense if we did not get any reach for them right!! So, we need a genuine and powerful tool that provides the exact status of our blogs and website.
In this case, Google Analytics is the best website or tool undoubtedly to track the exact status of a website. In general, the remaining tools are specific at particular features. But Google Analytics Tool is like a one-stop shop.
With all its features and techniques, Google Analytics will help out the bloggers to increase their performance and rectify their site errors.
Let us know in detail about Google Analytics in the below sections of this article.
Google Analytics for Bloggers (Guide & Steps)
Here is the simple guide or steps for the bloggers to start Google Analytics for their website. Beginners can make use of these steps up to large extent.
Follow each step regarding Google Analytics mentioned below and get a chance to track the clear reports of your website. Let's start.
1. Sign Up with the Google Analytics
First of all, go to www.google.com/analytics. Then log in to your Gmail account. Next, click on the "Admin" link available in the top menu and fill in the details and info about your blog or website.
Also, make sure that you tick the recommended options to get the Tracking Id. After that, save your Google Analytics Id
2. Place Google Analytics on Your Site
In the second step, you need to install a Google Analytics Plugin to your WordPress blog.
If you don't want to manually insert your Google Analytics tracking code inside your WordPress blog template, then there is an easier way:
Just you need to install a plugin named "Google Analytics for WordPress".
After completing the installation, go to 'settings' -> 'Google Analytics' and enter your Tracking Id.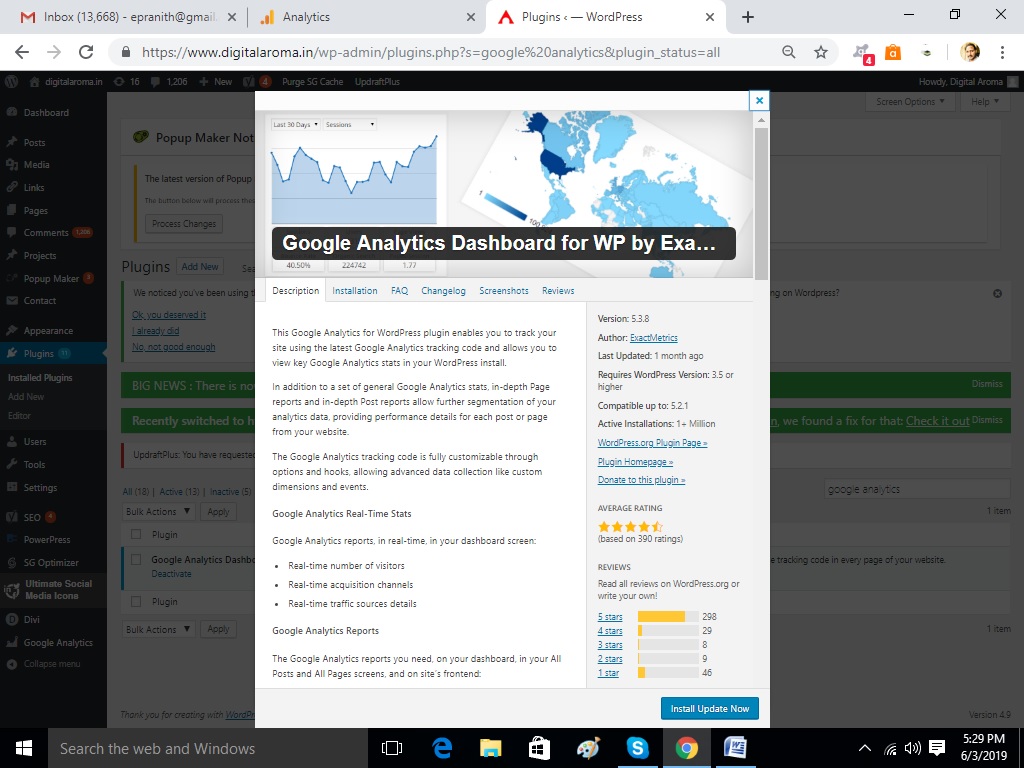 3. Start checking your Visitor Statistics
In general, Google Analytics will take some time to start working on the entire site. So don't worry and be patient. In the first 24 hours, you may not get much information about your website through Google Analytics.
Once after start working, the Goggle Analytics website will give you the entire performance report along with the real-time (live) data.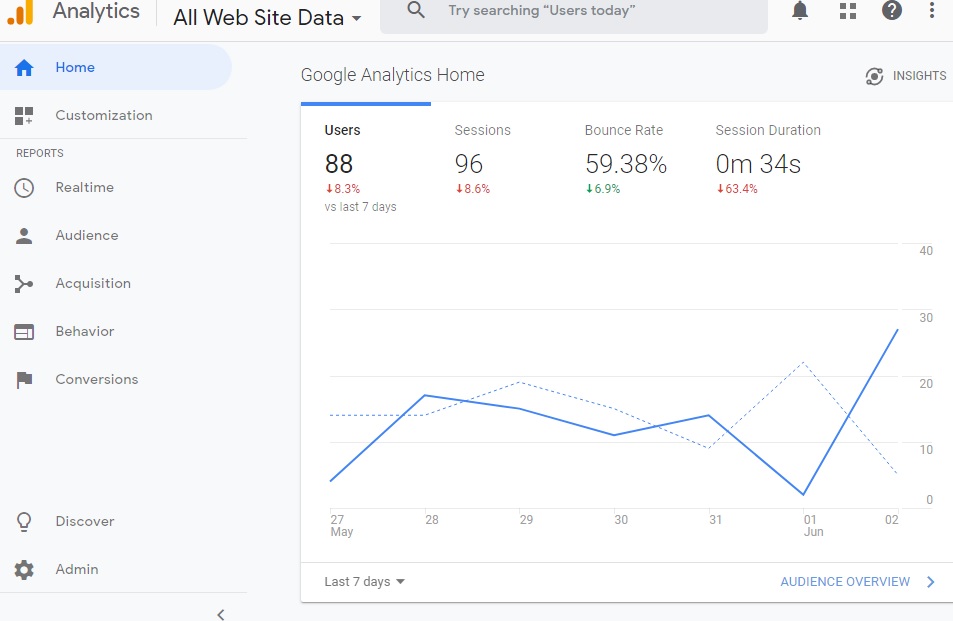 4. Set Up Goals for your website
Setting some goals in Google Analytics will help you to achieve them and measure the performance of a website in various aspects. Here we advise you to set up both micro goals and macro goals for better website performance.
Here setting up goals can be done in 4 ways. They are
Time spent on your website
Events triggered i.e. images and videos clicked etc
Total page views in a visit
A key page view on your site (like your thank you page)
Another piece of advice is to group both Micro and Macro Goals in order to increase the effectiveness of the website.
5. Track SMM Results in Google Analytics
Many users are not aware of Social Media Reports in Google Analytics. These reports will help in a large extent in discovering a few important things about our website. Such as
How Traffic is driven to Our Sites Via Social Media
In which way Visitors Interact With Social Sharing Buttons
How Google Harvests Activity from Social Data Hub
The social data hub is particularly interesting for bloggers because it harvests information from all over the web.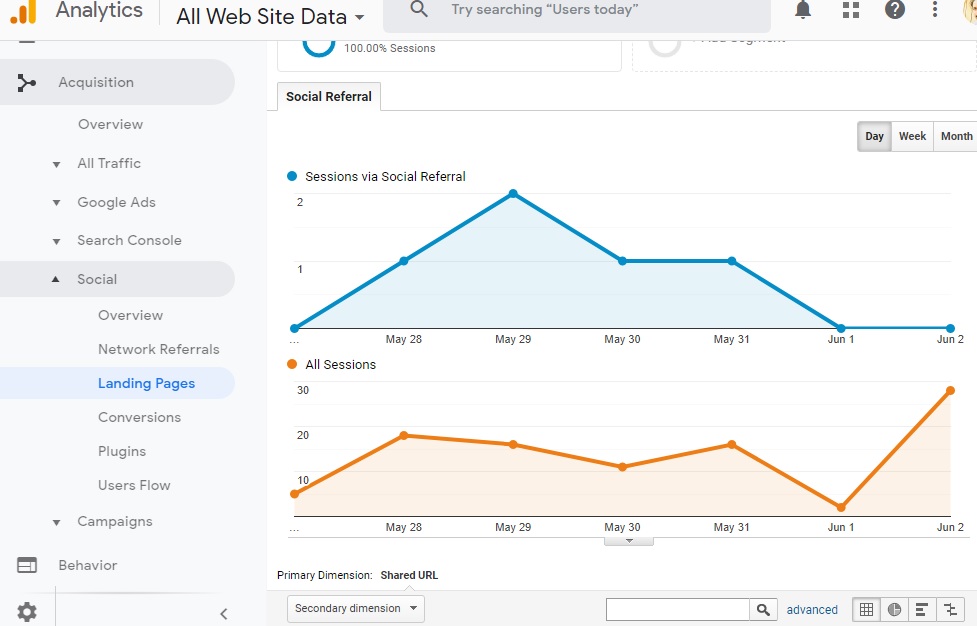 Click Here to check more details about Google Analytics
Google Analytics Metrics that Bloggers should Follow
There are certain metrics that every Google Analytics user should follow in order to track the website report successfully. With the help of these metrics, we can make our website performance much better and effective.
Let us look few important Google Analytics Metrics that every blogger should follow.
1. Overview
Google Analytics Overview report offers a very quick glimpse of your blog's audience. With the help of this report, you can view your blog's sessions and pageviews for a certain period of time both visually in graphs as well as quick reports.
Do you know what, These reports will available on multiple things like sessions, page views, average session duration, and bounce rate?
2. New Vs Returning Visitors
Both New Vs Old visitors are important for bloggers. New visitors are the people who discovered your website and just entered your website. We need to maintain their visit regularly.
Whereas old visitors are already familiar with your website and blogs. We need to make an impression on old visitors in such a way that they should share our blogs with new people. Google Analytics overview helps us to track all kinds of visitors and maintain their visits to our website.
3. Most Popular Posts
When we try to grow our blog visits, one report will help us in providing more insights for creating more popular posts. That report is nothing but a track report of our most popular posts.
Tracking the most popular post on our website will help us to create more posts in a similar way. Here Google Analytics will help us to track our most popular blogs or posts.
4. Top Outbound Links
Outbound Links are the links that we redirect our visitors to other similar websites which have good content. In this process, we will get backlinks to our website from other similar websites to which we are linked to.
Remember that, Backlinks are very important for every website. Google Analytics will help us to track how many backlinks we have got from the other websites through this process.
5. Top Google Search Terms
One of the best and main sources of getting organic traffic is the searching process in Google or other search engines. Our blogs need to get ranked in search engines for the keywords that users type for.
In order to identify which keywords they're using, you should track the search terms for your site. Google Analytics help us to track most search terms that our website ranked for.
Click Here to check more Google Analytics Metrics
Final Conclusion
Finally, we want to conclude that Google Analytics for Bloggers is an awesome concept that every blogger should be aware of. Google Analytics Website will help every blogger to reach his/her goals through its features.
Still, if you have doubts about Google Analytics for Bloggers please post them in the below comment box. Or else contact Digital Aroma, the Best Digital Marketing Services Company Vijayawada to know more about Google Analytics.
For more information on digital marketing services in Vijayawada and our packages