There is no doubt that online marketing remains the top career platform currently. It is one of the most profitable industries with the most on-demand digital marketing roles.
Digital Marketing Careers has been tremendously increasing as the demand increases. When a brand started expanding the business there should be involvement of digital marketing for sure.
This article, let us know completely about the demand for digital marketing roles, skills, jobs in India. Let's get started.
Blog Contents
What Is Digital Marketing?
How To Start Digital Marketing Career?
Common FAQs On Digital Marketing Jobs
On Demand Digital Marketing Roles In India 2022
Final Conclusion
Above all are the blog contents framed in this article. Candidates who don't have a proper idea regarding what roles does online marketing career contains can follow the entire article.
What Is Digital Marketing?
Marketing particular business using digital platforms and digital strategies is nothing but digital marketing. One should possess skills, gain knowledge to market business digitally.
This is why many digital marketing institutes are taking place in every city. As demand for online marketing is increasing day by day, career opportunities are also increasing.
How To Start Digital Marketing Career?
Starting a career in digital marketing is very easy if you take every step carefully. Do not believe in myths like you can learn the course on your own.
Follow the below steps carefully to start an online marketing career.
First of all know the entire concept of digital marketing
Know whether you are passionate to this field and work or not.
If you are passionate, research for the right training institute.
You must consider few things before joining digital marketing course. Check out them.
After course completion, take internships.
If possible take live projects.
That's all. Now you are all ready to start your digital marketing career.
Common FAQs On Digital Marketing Jobs
In general, most of the candidates actually don't know the complete concept of online marketing. Moreover, they don't know about the on-demand digital marketing roles.
Along with that, many candidates will have so many doubts regarding this career. So we are providing answers to some common FAQs on digital marketing jobs.
1. Is Digital Marketing A Good Career?
Yes, It is a good career now and in the future. The actual job of a digital marketer involves creativity. Only passionate candidates will they the feel actual goodness of this career.
2. What Is The Future Of Digital Marketing In India 2022?
As per the present reports, the future of digital marketing is going to be amazing. The world is getting more involved in digitalization.
As the demand increases, career opportunities will also increase for online marketing. Check Out the Future Scope Of Digital Marketing In India blog for more details.
3. Is there a demand for Digital Marketers?
According to McKinley, there's high demand for skilled digital marketers, while a reliable supply of talent is lacking throughout the industry. The report shares that over half of all marketing hires will be digital specialists, with content and digital advertising being the most sought after areas of specialization.
4. Is Digital Marketing A Stressful Job?
Every job contains stress. The thing is that whether we are interested or not. Even digital marketers will get a bucket of stress. It comes in different forms, triggered by different causes.
At the end of the day, the work results and our interest, passion towards work will distress us.
5. Does Digital Marketing Has A Future?
From banners to big data, digital marketing has continuously adapted to meet the needs of customers and brands alike. With an estimated $46 billion going towards programmatic advertising in 2018, it's predicted that 86% of all digital display ads will be presented via automation by 2022.
As long as the digital system increases in the world, digital marketing will have an amazing future.
6. How Much SEO Earn In India?
While freshers can earn around Rs. 1.8-2.8 LPA, professionals with over 5-8 years of SEO experience can make around Rs. 3.5-6.6 LPA. As for senior-level SEO salary in India (for job roles that demand over ten years of experience).
Check Out Digital Marketing Salary In India blog to know the information completely.
7. How Much Digital Marketers Earn In India?
In general, The average salary received by a digital marketing executive in India is 3.5 to 4 Lakhs per annum.
Please note that salaries may vary according to the locations, companies, etc.
I hope these common FAQs on digital marketing jobs help you clear your doubts.
On Demand Digital Marketing Roles In India 2022
Like any other field, online marketing also has different kinds of roles. Every role is unique and has equal importance.
Moreover, every role requires different kinds of digital marketing skills. So let us know about each role clearly through the below infographic.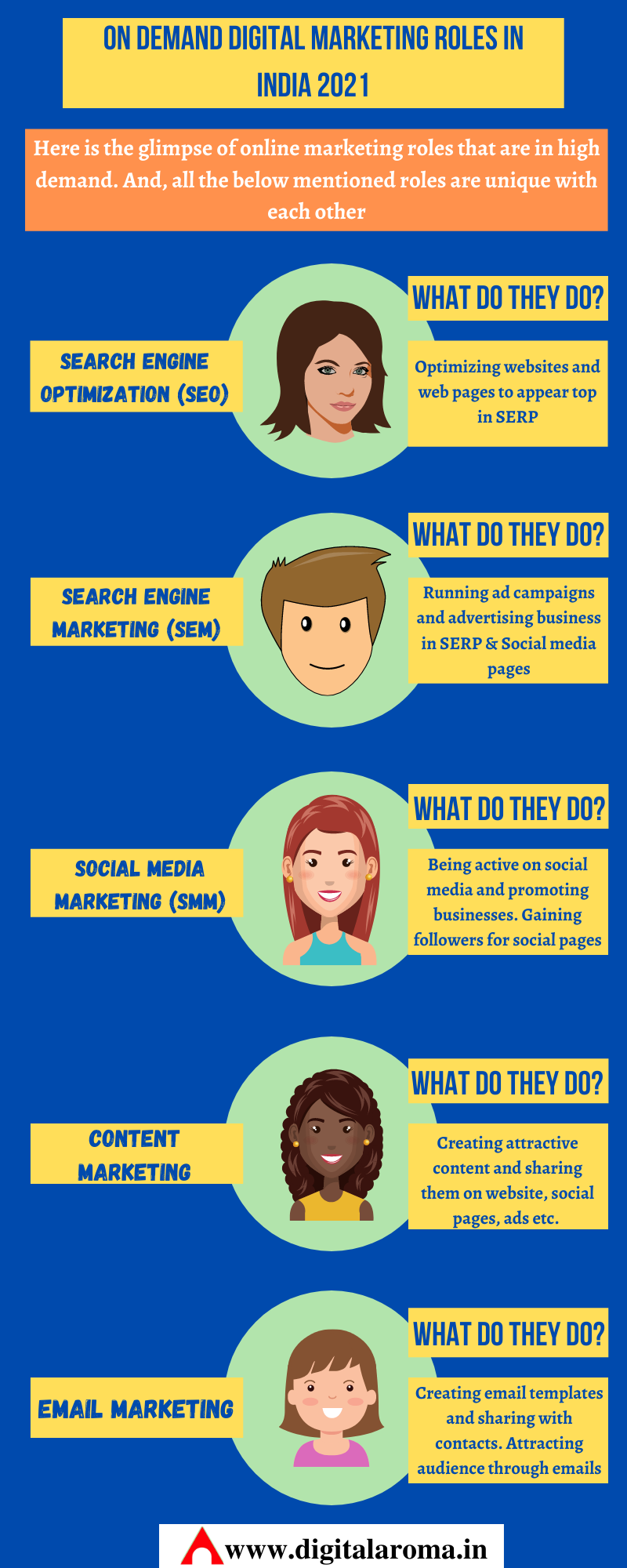 We hope this info graph help you understand the on-demand digital marketing roles in India 2022. Along with these roles, new roles are arising like Analytics Manager, Video Marketing, Graphic Designer, WordPress web designer, etc. They are also in good demand according to the company requirement.
Know More About Online Marketing Job Roles 2022
Final Conclusion
Guys, know the importance of an online marketing career. Join the best Digital marketing course and take careful steps if you are serious about your career.
In Conclusion, Acquire good digital marketing skills and get placed in the right company to expand your skills. Still, if you have doubts regarding on-demand digital marketing roles in India 2022, contact us.
We provide the best course and help you get digital marketing jobs. So you can contact us to clear your doubts. A free consultation is available.
Learn Advanced Modules in Digital Marketing
– Max 6 Students Per Batch
– Learn From Experts
– Batch Starting Soon