Choosing the right WordPress Hosting Services for your website is a very important thing. Luckily we have a number of hosting providers on the internet.
Let us see, how to select the Best WordPress Hosting for your website in this article.
Blog Contents
What Is WordPress Hosting?
Why You Need Hosting For Your WordPress Site?
When Do You Really Need Managed WordPress Hosting?
Factors To Consider Before Choosing WordPress Hosting Companies
Namecheap | Fastest WordPress Hosting Services
Why Namecheap?
Commonly Asked Questions On WordPress Hosting
Final Conclusion
Above all are the blog contents framed in this article. Candidates who don't have proper knowledge of WordPress Hosting Services can go through the entire article.
What Is WordPress Hosting?
In the simplest sense, WordPress hosting is just hosting that has been optimized to better meet WordPress' performance and security needs.
It also typically includes one-click WordPress installs to make it easy to get started with WordPress.
Why Do You Need Hosting For Your WordPress Site?
Not only WordPress sites, but also all kinds of websites require hosting to make themselves accessible on the Internet. We have various types of hosting where Managed WordPress Hosting is one among them.
The performance of your host is incredibly important. Without a high-performing host behind you, your site will suffer, both in your user experience and search engine rankings.
If you host your site on a managed WordPress server, or dedicated server then you will see improved levels of performance.
When Do You Really Need Managed WordPress Hosting?
If you are a beginner who is starting a blog, then you DO NOT need managed WordPress hosting.
On the other hand, If you have a small business or have a high-traffic website, then it makes sense for you to get managed WordPress hosting.
Factors To Consider Before Choosing WordPress Hosting Companies
In general, your WordPress site health depends upon the hosting provider you choose. But we have a number of companies to choose from like Bluehost, HostGator, etc.
Now, how can we select the best WordPress Hosting Services among them? Don't Worry, we will help you figure out some factors before taking this step.
Remember that the below-mentioned points are damn important no matter which hosting service you choose.
1. Website Speed/Loading Time
It is one of the most important factors we need to consider before choosing hosting services. If our website takes much time to load, users will quit easily.
2. Uptime
Uptime is the amount of time that the server hosting your website is up and running. Although 100% uptime is the goal, the industry considers 99.95% uptime as high availability.
If a hosting provider has strong uptime rates, then it's a good indication that their servers perform well.
3. Customer Support
Support channels are very important in WordPress Hosting. Unfortunately, some support systems are useless. They will not respond on time especially whenever our website goes down.
You will need to consider different ways to get in touch with support teams like Live Chat, Email, Phone, etc.
Of course, these 3 things will vary on different factors like the service you choose, the plan you choose, your website size, traffic your website gets, etc.
So you will not have a proper guarantee on Uptime and Website Speed.
Know More About Factors To Consider Before Choosing WordPress Hosting Companies
Namecheap | Fastest WordPress Hosting Services
Namecheap is the best and economical option if you want to have hassle-free WordPress Hosting. It is one of the best hosting providers that allow your site to run super fast with amazing features.
We have a total of 3 plans for creating a WordPress site.
EasyWP Starter
EasyWP Turbo
EasyWP Supersonic
Out of these 3 plans, EasyWP Starter is the basic plan which starts from Rs285 and you need to pay Rs0.74 on your 1st Month along with 50K visitors per month. Is that interesting?
Let us know in detail about the Features and Specifications we offer in Namecheap Best WordPress Hosting Services
Features In All Plans Include
Specifications
Following are the specifications of Namecheap WordPress Hosting Services.
1. Streamlined and Super-fast
Imagine your website going live in minutes, with everything ready to go. No need to worry about navigating old cPanel interfaces or figuring out how to install WordPress. We do it all for you in one click. With EasyWP WordPress hosting plans you save time and money.
2. WordPress Hosting In The Smart Way
This isn't just cheap WordPress Hosting. With EasyWP, your WordPress website is powered by our very own cloud technology, giving you that "set-and-forget" experience. This unique infrastructure is designed to let each and every website live and grow, without hiccups.
3. Complete Customization
WordPress gives you the freedom to build anything you want, getting any idea out there. It comes with an easy-to-use interface to write, edit, and publish your content. It has thousands of themes and plugins, allowing you to create a beautiful website in virtually no time at all. You can also upload and use your own customized themes.
4. One home for all your websites
EasyWP lets you manage all your WordPress websites from one single dashboard. Here you can create backups, change your domain name, and access your files through SFTP. If you're planning on creating a new website, don't worry about setting up a separate account and remembering a different password. With EasyWP you can do it all from one place.
5. Best Pricing
Everyone has the right to get online. That's why EasyWP removed the middle man and cut down on excessive office costs, all to deliver the highest performance and reliability at an unparalleled value.
Hope this stuff helps you understand About Namecheap Standards and commitment towards their clients.
Know More About Namecheap Fastest WordPress Hosting
Why NameCheap?
Set Up Your Website Under A Minute With Easy WP
Believe In Namecheap WordPress Hosting Plans
At Namecheap, we offer Fast-Low Cost WordPress Hosting services where everyone can afford.
Once compare our WordPress Hosting Plans from other brands in all terms.
The below image will help you compare the WordPress Hosting Price in various factors. Along with that, you will also get a clear idea of how reasonably we charge from our clients.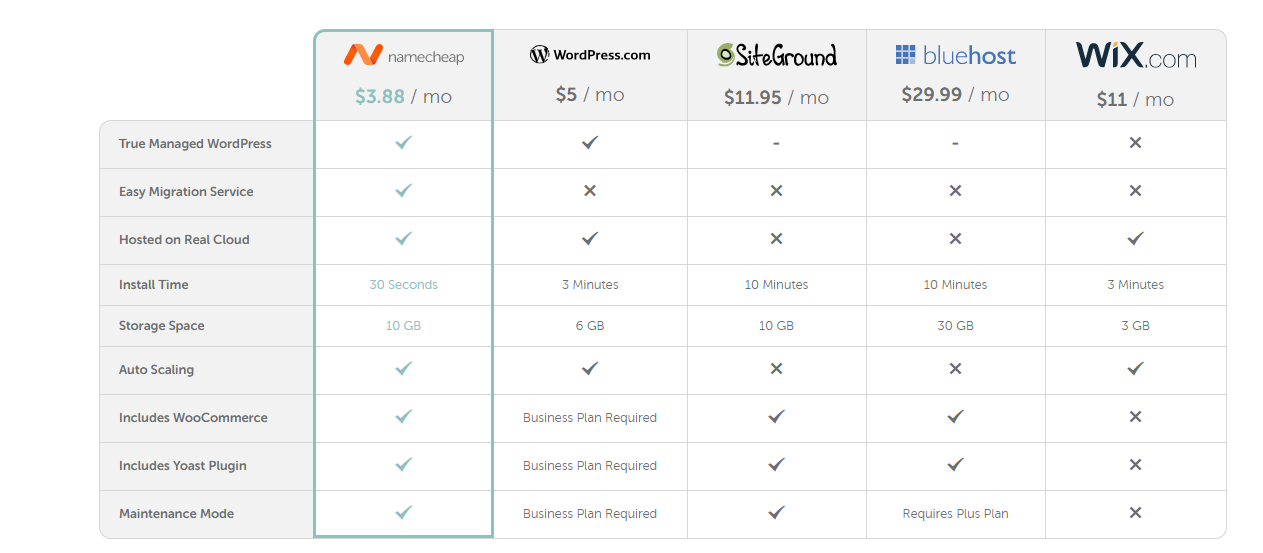 Hope this table brought you a clear idea about WordPress Hosting costs and why should you choose Namecheap Services.
Commonly Asked Questions On WordPress Hosting
In general, both beginners & experienced candidates will have a few doubts regarding WordPress Hosting Plans and other details.
So, let us see some commonly asked questions or doubts regarding the hosting services.
1. Does EasyWP Include cPanel?
No, EasyWP doesn't include cPanel. Instead, we designed a single, customized dashboard to easily manage all your EasyWP websites—without any cPanel hassle.
All the tools you need to maintain and manage are literally at your fingertips, whether that's connecting a domain name or managing your backups. With your EasyWP dashboard, it only takes a few clicks.
2. Can I Use Any Domain Name With EasyWP?
EasyWP works with any domain name, registered with any domain provider. If your domain name is already registered with Namecheap, it automatically connects to EasyWP.
If your domain name is registered elsewhere, we make it easy to connect it to EasyWP.
3. Can I Use Custom Themes And Plugins With EasyWP?
Generally speaking, you can install any theme or plugin of your choice using the WordPress dashboard. We recommend you avoid untrusted sources, as well as illegal free downloads of premium themes and plugins.
These can break your website and compromise its security. We also have a shortlist of banned plugins that are known to hurt your website or cause performance issues.
Know More Commonly Asked Questions On WordPress Hosting Plans
Final Thoughts
Finally, we want to conclude that, grow your website by choosing the best WordPress Hosting Services.
Still, if you have doubts about Namecheap Services or if you already have a web host but want to switch hosts, you can contact us.
You can also contact us if you have doubts about WordPress Hosting prices and plans.
Also, Check
Web Hosting Services | Namecheap | Secured & Affordable Hosting Plans
For more information on digital marketing services in Vijayawada and our packages