Search Engine Optimization is the best way to rank top on the search engines and reach the maximum audience. That's good! But, ranking on the SERPs is possible only with On Page, Off Page and SEO Techniques? No!! We need one more element to carry out all Search Engine Optimization techniques and reach the audience. That is nothing but 'SEO Tools'. Along with the techniques, SEO Tools 2022 will also play a prominent role in getting positions in SERP.
That's why today's blog topic is SEO Tools 2022. We thought to share some useful Search Engine Optimization Tools with our readers. So make use of this information while blogging for your websites.
Table of Contents
Introduction
What are SEO Tools?
Why SEO Tools?
How SEO Tools did help our website?
Need of SEO Tools
Types of SEO Tools
Keyword Research Tools
Most Popular SEO Tools
Latest SEO Tools 2022
Benefits of SEO Tools 2022
Conclusion
Introduction:
Candidates who don't know about SEO Tools 2022 are required to follow the introduction part without skipping.
What are SEO Tools?
Tools which we use while implementing Search Engine Optimization Techniques to our website or web page are known as SEO Tools.
Some of these SEO Tools will available for Free and some other tools are paid tools. Search Engine Optimization Tools will help every optimizer to optimize his/her web pages more effectively.
Why SEO Online Tools?
As competition is going on increasing for Search Engine Optimization Techniques, there is a need of some SEO Tools which makes our work easier.
SEO Online Tools helps us in various categories like keyword research, traffic analysis etc. So we use Search Engine Optimization Tools.
How Top SEO Tools did help our website?
SEO Tools help us in the following ways:
Keyword Research
Traffic Analysis
Page Rank
Know Competitors Status
Acquire Competitors keywords etc
Top SEO Tools will help our website by performing the above activities.
Need of SEO Tools Online :
Many Optimizers and bloggers will follow each and every SEO technique perfectly while blogging. But that perfectness will not be maintained while selecting the SEO Tools.
Many bloggers will not concentrate on SEO Tools. The reason is, we actually don't know the proper usage of Search Engine Optimization Tools. As per 202 SEO Updates, there is a huge need for SEO Tools. Follow the below points to know the actual Need for SEO Tools 2022 Online.
To Speed Up the SEO Process
To Analyze Advantages and Drawbacks
Verify What can be Automated
To get information in a more Categorized and Organized way
To get more Ideas and Inspiration
Above are some points which state the Need for SEO Tools. Doing Search Engine Optimization is not enough we also need to follow the above metrics for targeted results.
Check complete information about Need of SEO Tools
Types of SEO Tools 2022 :
Actually, this is the main part of the blog where we have to include the big SEO Tools list. But for the sake of our readers, we are going to divide these tools into 3 sections.
These three sections contain different kinds of tools that are used for different purposes. By following these three sections, it will be easy for you to understand the actual purpose of a particular SEO Tool. So, the three sections of the SEO Tools 2022 List is
1. Keyword Research Tools :
Keyword Research is the heart of the Search Engine Optimization process. Any strategy will start with keyword research. So, every blogger wants to carry out the Keyword Research function very effectively.
Due to this, many keyword research tools are available online which provides the most popular keywords and their volumes along with the difficulty levels. Let us see the most popular Keyword Research Tools.
Google Keyword Planner is the basic and all-time flexible Keyword research tool to find keywords. It is a part of Google AdWords which provides organic keywords with their volume and difficulty levels.
We can say that SEMrush is a one-stop shop with exclusive keyword research and a huge number of other features. Along with the keyword research, we can analyze our website or competitor's website with the help of SEMrush.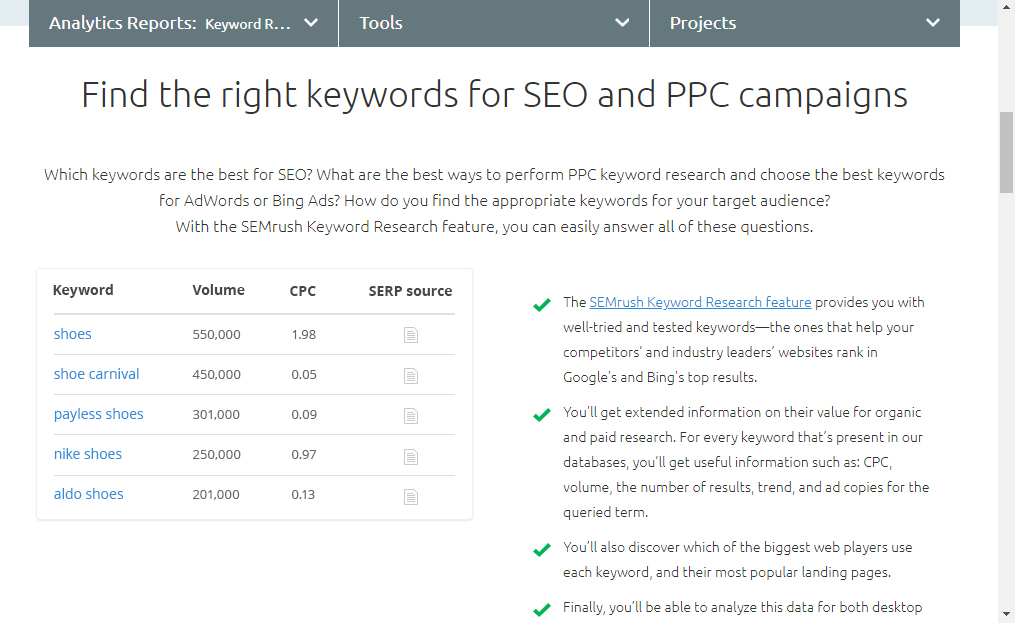 MOZ's Keyword Explorer has some extra dimensions to keyword research. Beyond the Volume & Difficulty, MOZ offers
Opportunity: Relative CTR of the organic results on a SERP
Importance: How critical the keyword is to your campaign
Potential: A combination of all keyword metrics to help you prioritize
So, in addition to the keyword research, MOZ's keyword explorer will help you to plan your SEO Strategy with its features.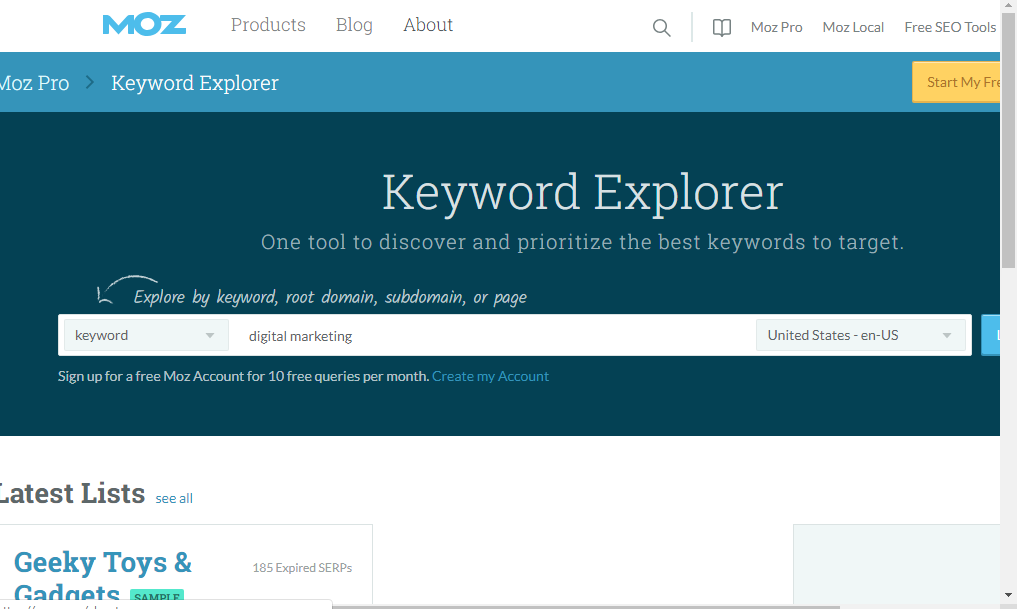 Keyword Tool is well known for providing Long Tail Keywords. Candidates who use Google Keyword Planner will definitely use Keyword Tool for long-tail keywords to use them in YouTube, bing etc.
Above are some of the most popular SEO keyword research tools. Some of these tools are paid and others will be available for free. Make sure that you use these keyword research tools while collecting keywords for your blogs.
Click Here for more Keyword Research Tools
2. Most Popular SEO Tools:
Following are the Most Popular SEO Tools used by every serious Search Engine Optimizer. These tools will help to carry out optimizations very effectively.
A Suite of helpful SEO Tools straight from the Google
Analyze our entire website and display errors.
Helps to track the backlinks.
Good Keyword Research Tool
Allows Site visibility
It can hand you keywords that the GKP will NEVER reveal
Must and Should Tool for Search Engine Optimization
Best tool to track organic traffic
Free tool which available with excellent features
Ideal Tool for backlink Analysis
Easy to use
Excellent Interface & Index
Allows us to know our website or webpage position in SERP.
Can add Keywords to search our web page position.
Also allows us to check our Competitor's site positions.
Above are some of the Most Popular SEO Tools used by every search engine optimizer. These tools help our website or web page to work more effectively by recovering errors and mistakes.
Click Here to know more Popular SEO Tools
3. Latest SEO Tools 2022:
Many Search Engine Optimization Tools are available online and they are updating with the new features. So users are getting confusion to select the top latest SEO Tools 2022.
So we are providing Latest Search Engine Optimization Tools 2022 which are very useful. The below SEO Tools are the latest and works very efficiently.
SEO Spider Screaming Frog Tool
The Screaming Frog SEO Spider is a website crawler that allows you to crawl websites' URLs and fetch key elements to analyze and audit technical and onsite SEO.
What can we do with this tool?
Find Broken Links
Analyze Page Titles & Meta Description
Extra Data with XPath
Generate XML Sitemaps
Crawl Java Script Websites
Audit Redirects
Discover Duplicate Content
Review Robots & Directives
Integrate with Google Analytics
Visualize Site Architecture
SpyFu exposes the search engine marketing secret formula of your most successful competitors.
What does SpyFu Do?
Increase your website Traffic
Track Your Knowledge Rankings
Make Better Connections
Search Latte
Build Google Searches In any Combination of Google Supported Top-level Domain, Country and Language.
A Tool for International SEOs
Social Blade gives all users access to our public database which, using advanced technology, is able to provide you with global analytics for any content creator, live streamer, or brand.
Whether you are looking up popular YouTube creators, or Twitch streamers playing a specific game, Social Blade has you covered!
Social Blade always looks to expand its features to give its customers the best experience possible.
An YouTube Certified Tool
Siteliner is a free service that lets you explore your website, revealing key issues that affect your site's quality and search engine rankings
What Does Siteline Do?
Find Duplicate Content
Find Broken Links
Page Power
Reports
Benefits of SEO Tools :
The Results are Low Cost (In Comparison to Adwords and PPC)
Definite Increase in Traffic
Higher Brand Creditability
Better Return of Investment (ROI)
Your Competitors are doing it
Take your business to the next level
Results are permanent
Easy access of Data
Click Here for more Benefits of the Latest SEO Tools
Final Conclusion :
Finally, we want to conclude that, make your search engine optimization easy through Latest SEO Tools. Not only easy but also Effective optimization will be done with the help of the above-mentioned Search Engine Optimization Tools Still if you have doubts about Latest SEO Tools 2022 comment on them in the below comment box. Or else consult Digital Aroma for detailed information about SEO Tools List and SEO Services in Vijayawada.
For more information on digital marketing services in Vijayawada and our packages