Keywords play a prominent role in the digital marketing field. So, we thought to share Keyword Research Guide in a form of an article.
In this article, readers can find valuable and useful information about keyword research, popular tools, the purpose of keywords, etc. Let's get into the topic.
Blog Contents
What Is A Keyword?
Purpose Of Keyword Research
Types Of Keywords
Free Keyword Research Tools
Keyword Research Guide | Metrics To Be Followed
Final Conclusion
Above all are the blog topics that readers can find in this article. We are suggesting you to read the complete article without any skip.
What Is A Keyword?
Basically, keywords are the words or phrases that users use to perform a search in a search engine or search bar.
For example, We want to consult the top cardiac surgeon in Hyderabad city. Then our keywords will be
Best heart doctor in Hyderabad
Top Cardiac Surgeon in Hyderabad
Heart doctors in Hyderabad
Now, above mentioned words or phrases are nothing but keywords for a particular topic.
Keywords are the basic foundation for SEO & SEM Techniques in the digital marketing field. Let us know in detail about them in the below sections of the article.
Purpose Of A Keyword
A keyword is a word or phrase that signifies the meaning or main ideas of a data set. They are often used as an index to the contents of a data set.
Internet users access the search engine to search millions of queries. Here, keywords help search engines to understand your queries exactly and provide you with the proper, valid answer.
Types Of Keywords
Generally, there are three main categories of keywords
1. Informational Search Queries Keywords
2. Navigational Search Queries Keywords
3. Transactional Search Queries Keywords
What Is Informational Search Query?
Search queries that cover general topics for which there may be thousands of relevant results are defined as informational search queries. In simple terms, if someone enters this type of query in search engines, they are looking for information.
In general, informational search queries are intended to give the right & valid answers for the queries. Hence, these queries mostly start with "what", "why", "how", etc.
Example: "Best Digital Marketing Blogs In 2022", "How To Learn Digital Marketing Course Online?" etc.
What Is Navigational Search Query?
Search queries help users to navigate or find a particular web page or website. Navigational search queries are those that Google Crawler bots land to a particular specific user query website or location.
Example: "Facebook Login" search query will provide the Facebook login page link at the top of the results.
What Is Transactional Search Query?
In simple words, transactional search queries are the keywords that may convert users to complete the deal, purchase, order, etc.
These keywords are recognized as the most competitive query and should not neglect while optimizing your website. These types of queries can have brand names, product names, etc.
Example: "Apple iPhone 13", "best digital marketing course in Vijayawada", etc, in these keywords, users looking to buy a particular product and service.
Everyone must know the type of keywords and their purposes for better targeting. This is the basic point that should not be neglected in Keyword Research.
List Of Free Keyword Research Tools
There is a number of keyword tools available on the internet. Each tool has a unique feature and style. Out of them, we have listed the 7 best free tools for you.
These tools are highly effective in providing the best keyword results and are easy to use.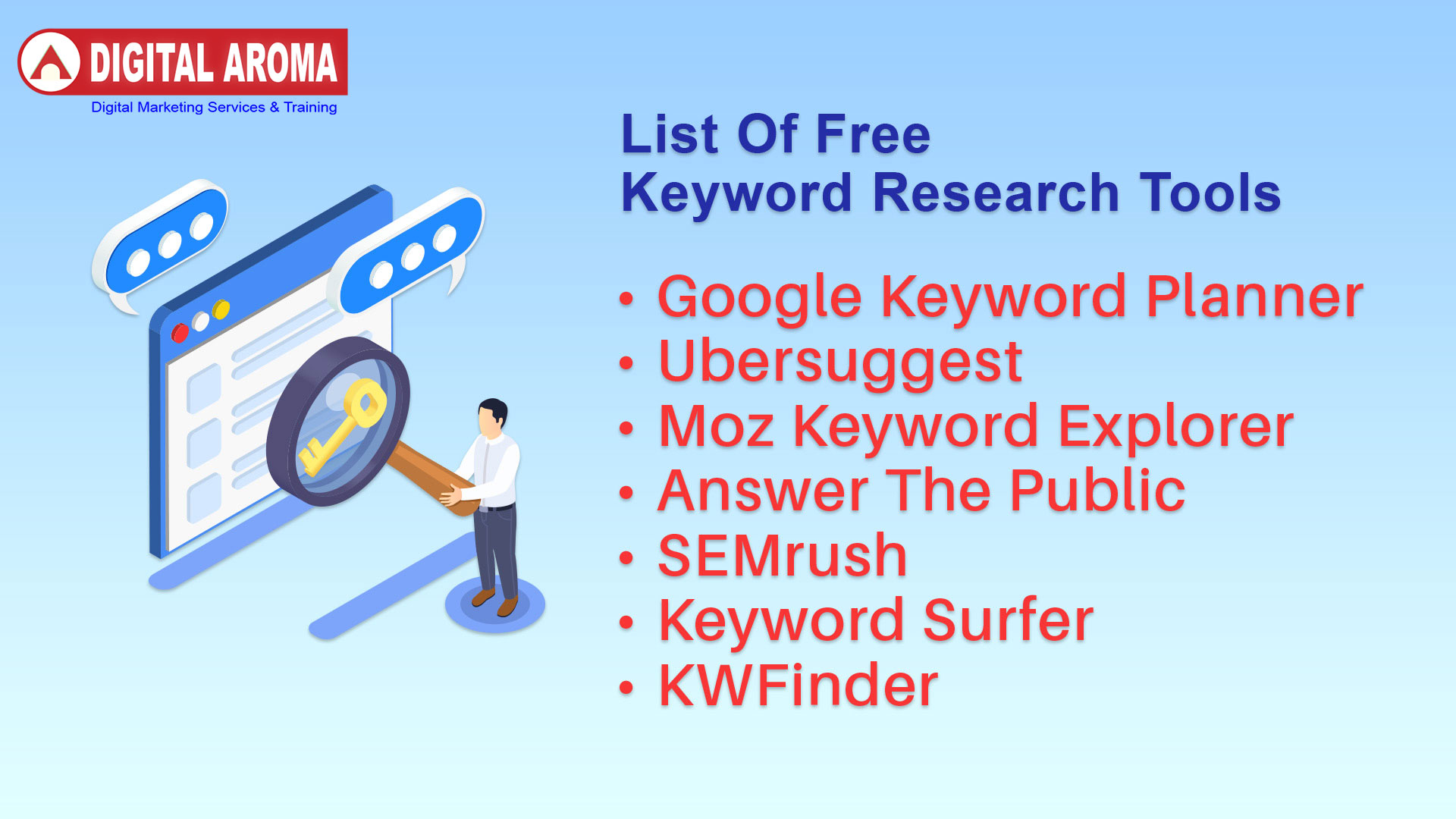 All the above-mentioned tools are recognized as the best keyword research tools by digital marketing experts.
Keyword Research Guide \ Metrics To Be Followed
Most of the beginners in digital marketing are unaware of proper keyword tools, proper researching, etc. In this keyword research guide, we will help you know how to find perfect keywords by following the necessary metrics.
1. How To Find Keywords
The main and best source to find out the keywords is using keyword research tools. We have a number of free tools available on the internet which can provide the best & suitable keywords.
We have already listed out some top Free Keyword Research Tools in the above section. Beginners can access those tools and collect keywords very easily.
2. How To Choose Right Keywords
Choosing the right keyword is the most important thing and skill that every optimizer should develop. Once after access to the tool, just enter a sample keyword and you will get a bunch of keyword ideas.
Out of them, choose only suitable and relatable keywords and make a list of them. Compare the list with your niche and filter out the primary keyword, secondary keyword, and related keywords based on the priority.
3. How & Where To Use Keywords
Keywords can be used in both SEO & SEM Techniques of digital marketing. The primary keyword should be used in the Title & description of the blogs & ads. It is also known as "Focus Keyword".
Do not over-optimize the single keyword. Make sure to use other related keywords in your blog along with primary & secondary keywords. Follow "Keyword Density" while optimizing the keywords to avoid over-optimization.
4. Advanced Keyword Research Tips
Advanced Keyword Research involves 3 steps. Generally, most beginners use only keyword tools to find out the keywords. Here are the 3 best & possible ways to find out perfect keywords.
Google Suggestions
Google will provide keyword suggestions at the bottom of the SERP page when we search for something. Those keywords are the most searched keywords in the search engines and we must include them in our keywords list.
Competitor Websites
Verify your competitor websites to find if you have missed out on any keywords. Sometimes, our competitors may use better keywords and rank top. So do not forget to collect new keywords from their websites.
General Human Thinking
Every optimizer & advertiser must think like a customer before optimizing the keywords. As every user searches unique keywords, optimizers must capable of thinking in multiple ways and generating more keyword ideas.
The above-mentioned advanced keyword research tips will help you collect all the possible keyword ideas.
5. Metrics To Be Followed
There are some important metrics and breakdowns we must consider while collecting the keywords.
Volume (Number of searches for the particular keyword)
Difficulty Level (It has three constraints – "Low", "Medium", "High". Low indicates that we can rank the keyword with very little effort; Medium indicates it takes a certain time to rank; and High indicates, it's very tough to rank the keyword-based on competition)
CPC (CPC stands for Cost Per Click. This is a very important metric for advertisers where you can estimate how much does Google charge for the keyword)
SEO Difficulty Level (It indicates the organic ranking difficulty level)
Hope this Keyword Research Guide is useful for you. Click on the below link to know more information.
Know More About Keyword Research
Final Conclusion
In final, we want to conclude that, Keywords play a key role in both SEO and Google ads. So, make sure to collect and use proper keywords for better targeting.
Still, if you have doubts about Keyword Research Guide, please post comments in the below comment section. You can also consult for more information about digital marketing courses. A free consultation is available.
Learn Advanced Modules in Digital Marketing
– Max 6 Students Per Batch
– Learn From Experts
– Batch Starting Soon