Search Engine Marketing has a significant role in the Digital Marketing platform. Most of the business holders stated that SEM Technique plays a key role and has more benefits. In this situation, most of the candidates have a dilemma that Is SEM Worth Learning?!!…
Don't worry if you are one of those candidates. You are in the right place. In this article, we will help you find out a few things like what is SEM and how it works, benefits, etc.
Table Of Contents
What Is SEM?
How SEM Works?
Usage Of SMM by Business & Various Industries
Is SEM Worth Learning? How To Learn SEM?
Top 10 Benefits Of Search Engine Marketing
Final Conclusion
Above all are the blog contents you are going to find in this article regarding Search Engine Marketing. Let's get started.
What Is SEM?
Search Engine Marketing (SEM) is a technique that displays our website Advertisements on SERPs. This technique is also popularly known as Pay Per Click (PPC) Technique.
SEM techniques use paid tactics to get visibility in SERPs. It includes activities like setting campaigns, setting a budget, keywords optimization, etc.
How SEM Works?
Most of the candidates know that SEM is the best means to get instant leads but they are not aware of how SEM works. Google AdWords is the most commonly used strategy in this technique.
Brands conduct Keyword Research and create a campaign by targeting specific keywords for their products or services. Whenever users search queries related to those keywords our website ad will be displayed in the top & bottom positions in SERPs. The brand will be charged each time when the user clicks on the ad.
Usage Of SEM By Businesses & Various Industries
As search Engine Marketing brings instant leads for businesses, usage of this technique has been rising each year. Actually, most business holders are not aware of this online marketing technique.
As technology increases, people also habituated to find out new technologies and started implementing them to their products and services. In this way, SEM has got the most exposure and is recognized as the best Digital Marketing Technique for business growth.
Let us see the Usage Of SEM by Businesses and Various Industries in the below graphical representation.
Is SEM Worth Learning? How To Learn SEM?
Yes SEM is a hundred percent worth learning, there is no doubt in it. The reason is, the Search Engine Marketing Technique is the first priority for 80% of eCommerce businesses for their sales and leads.
Secondly, all business websites want to rank top in the SERPs that too in the top 3 positions. The good thing is that the SEM technique will help you to get into the #1 position even you have a hard tough competition.
Of course, you need to pay for clicks but surely you will get ROI sometimes you will get double Triple ROI. Another thing most business websites show interest in is SEM because they need not rank organically which takes a long time.
Now, How To Learn SEM?
Learning Search Engine Marketing is very easy. You can choose a classroom SEM Course or an online course. Each city has digital marketing training institutes where they provide SEM Training.
Because of increased competition, many business owners are looking forward to hiring an SEM expert. Due to this, many institutes have begun to provide Search Engine Marketing courses.
You can complete the SEM Course within one month or 45 days or a maximum of 3 months. Soon after getting the certification, you will have opportunities in your desired location. Consult Digital Aroma to get the best SEM Training In Vijayawada.
We also provide Online training with 9+ years of experienced professionals. We are not trainers we are SEM Experts who run campaigns for various businesses.
Know More About Digital Aroma's Search Engine Marketing Training
Top Benefits Of Search Engine Marketing
The truth is that we cannot particularly explain how many benefits you will have regarding SEM for business, students, candidates, etc. All kinds of candidates can get huge benefits.
By reading below the benefits of SEM, you will get clarity about Is SEM worth learning. Let us go through them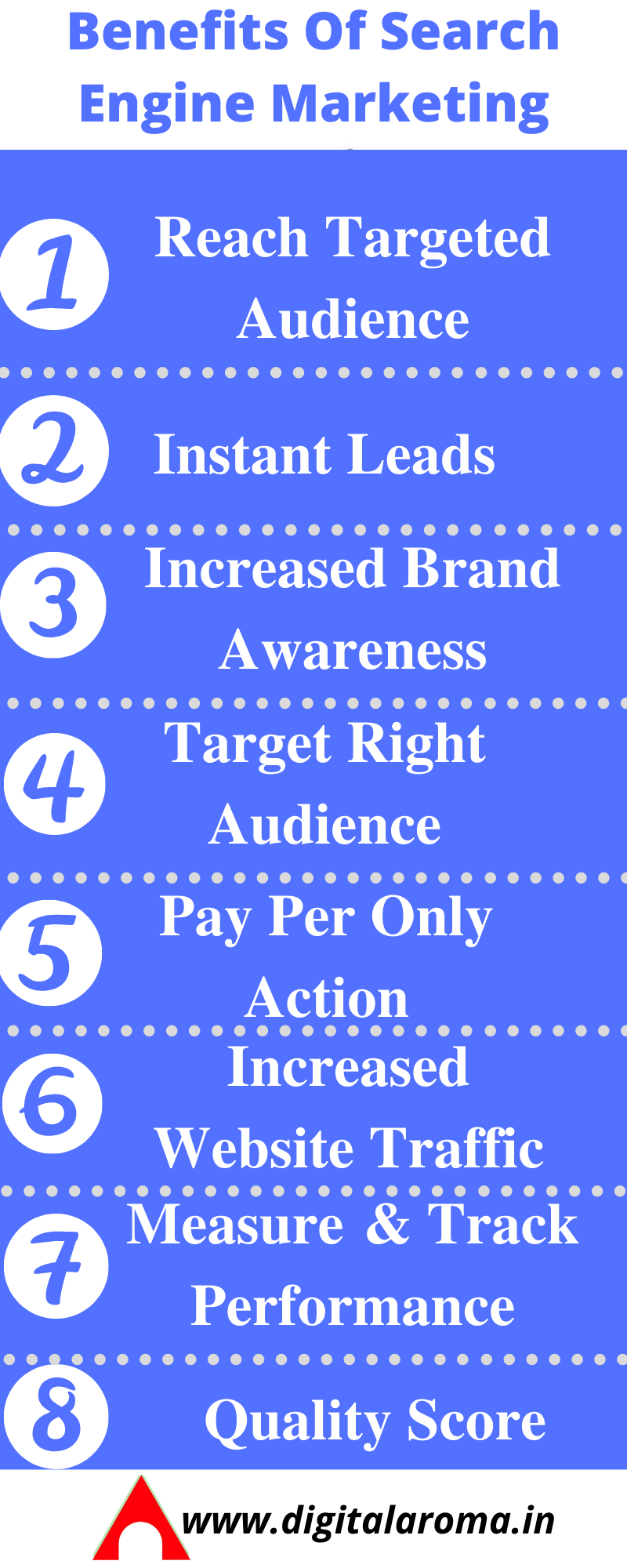 I hope these top Benefits Of Search Engine Marketing help you understand SEM is worth Learning or not. For more info on above mention details, click on the below link.
Know More About Benefits Of SEM
Final Conclusion
In the final, we want to conclude that SEM learning is completely worth it. Moreover, you will have a hand full of opportunities in various locations. Because many business holders are looking forward to hiring SEM Experts for online advertising.
Or else you can advertise your business by learning SEM Technique. Still, if you have doubts regarding Is SEM Worth Learning, post them in below comment box.
Learn Advanced Modules in Digital Marketing
– Max 6 Students Per Batch
– Learn From Experts
– Batch Starting Soon