Search Engine Optimization has become one of the most competitive platforms for all optimizers. Every blogger wants a top rank for their website in SERPs.
In the race of competition, bloggers are becoming hackers by implementing Black Hat SEO Techniques for their websites.
So, in this article we are introducing the Black Hat SEO, Impacts, Practices of Black Hat Tactics, and Latest Updates on BlackHat SEO, Advantages & Disadvantages, Black Hat Tactics Examples and Resources.
Latest Updates of Black Hat SEO 2022
Introduction
Candidates who are not aware of Black Hat SEO Techniques can follow the introduction part very carefully.
What is Black Hat SEO?
Black Hat SEO is a technique or practice which is used to page rank or site rank without obeying the search engine guidelines. BlackHat SEO focuses only on search engines and not on a human audience.
Why Black Hat Tactics are implemented?
These are some reasons why bloggers will use Black Hat SEO Techniques.
Instant Growth
Quick Results
Branding Purpose
To Over Come Competitor
High Ranking in SERP
In order to achieve these activities, hackers use BlackHat SEO Techniques in their pages or blogs.
Where is BackHat SEO Implemented?
In general, we should not implement Black Hat SEO anywhere. Because, search engines like Google, Bing, Yahoo will not support Black Hat Tactics.
In the case of BlackHat, SEO Practice is detected in your blog or page or website, then Google will penalize your website. Black Hat SEO is not user friendly.
Impacts of Black Hat SEO Techniques
Hackers will implement the Black Hat SEO Techniques in SEO Marketing to rank their keywords on the search results page. In this process, the hackers are not realizing the actual effects or impacts of the BlackHat SEO.
For this purpose, we are mentioning some impacts of Black Hat SEO in this section. Once go through them before implementing the Black Hat Tactics.
Impacts
BlackHat SEO directly affects the user's browsing experience.
If Black Hat Tactics is detected then your website will be penalized by Search Engine!
Results obtained by BlackHat SEO are not long lasting
Methods followed in Black Hat SEO is not supported by Google
Black Hat SEO Techniques will Reduce the Site Rankings
Sometimes Google will ban the whole site if it detects BlackHat SEO activities in your page.
Black Hat SEO Techniques are friendly only for search engine crawlers (bots and spiders) but not for the human audience.
Due to these impacts, optimizers will not include Black Hat in SEO Marketing.
Latest Updates of Black Hat SEO 2022

For the sake of readers, we would like to introduce some of the latest Black Hat SEO Techniques 2022. So, bloggers observe them and are aware of the Black Hat in SEO Marketing.
1. Unrelated Keywords
Using unrelated keywords or using the keywords related to another post or another blog is referred to be one of the Black Hat Tactics.
2. Keyword Stuffing
Bloggers use to stuff lots of keywords in their content to get a better rank for their page. We could observe some of the bloggers will repeat only the primary keyword all over the content.
This kind of keyword stuffing more than the limit was also considered to be one of the Black Hat SEO Techniques 2022.
3.Tiny Text or Hidden Text & Hidden Links
Hidden Text or Tiny Text is a technique that adds a couple of paragraphs in the content with the same background colour.
Only search engines can see this hidden text but not human readers. Even the Hidden Links follow the same technique.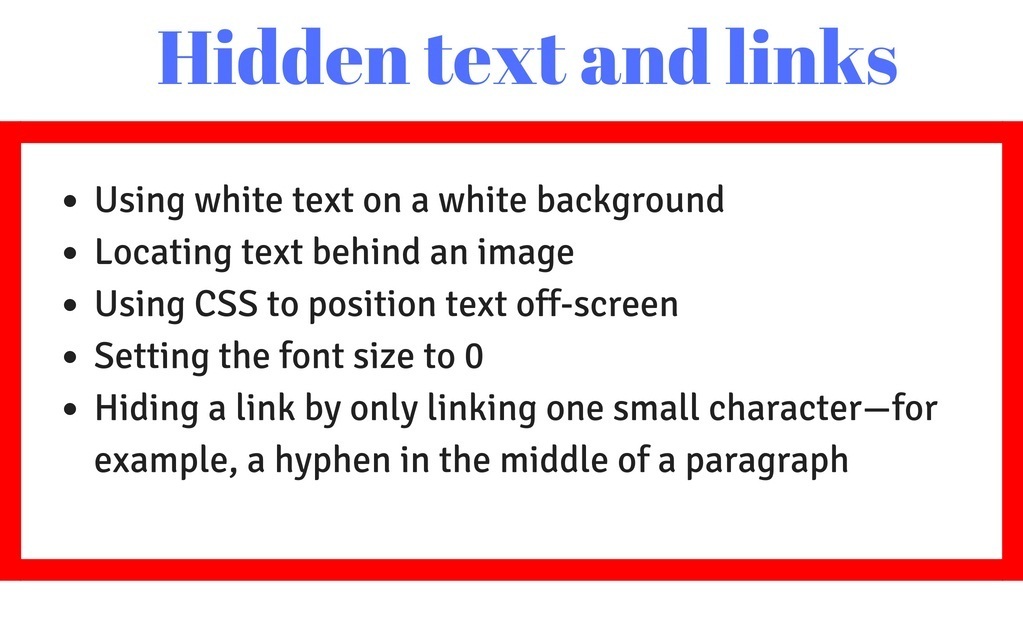 4.Cloaking
Cloaking is a technique of violation of Google's Webmaster Guidelines where the site owner will serve a different page to search engine in which the same page will be available differently for the human reader.
Checkout what Matt Cutts Says in this Video!
5.Doorway Pages or Gateway Pages
Doorway pages are created to get a high ranking on the website. A doorway page is a web page or keyword-stuffed page, which becomes an unrelated page a few minutes later.
The Doorway Pages are also known as
Bridge Page
Portal Page
Jump Page
Gateway Page
Entry Page
6.Bait-and-Switch or Page Swapping
Page Swapping is a Black Hat Tactics that replaces the good ranking page with another page.
Optimizers will optimize the page and upload it to their site. When the page acquires a good ranking in SERP, the optimizers will replace that page with a poor quality page.
7.Duplicate Content or Mirror Site
Bloggers use to copy content from the other site without any permission and upload the copied content in their blog without any modification. This technique of BH SEO will bring traffic for the copied content and keywords stuffed in it.
8.Social Networking Spam
Social Networking Spam is a BlackHat SEO Technique where the spammers will target the demographics on social networking sites. They will communicate with users by sending advertising messages or advertisements.
Advantages & Disadvantages of Black Hat SEO
Actually, there are no advantages of BlackHat SEO. We can consider them as quick results rather than saying advantages. We don't when those results will be fade out.
Advantages:
Quick Results
Everything is automated in Black Hat SEO
Black Hat SEO Techniques needs less effort and much faster
Time saving
No need of money investment
Products can be sold in short time period
Help your keywords to rank faster
All the above-mentioned advantages are considered to be unethical and short term results because Black Hat breaks the rules and regulations of Search Engine Optimization.
Disadvantages:
I think there is no need for a separate explanation for the Disadvantages of the Black Hat Tactics. But for the reader's convenience, we would like to list out the most dangerous harms or disadvantages of Black Hat in SEO Marketing.
Short Term Results
BlackHat SEO is a Unethical method
Black Hat Tactics are Spamming Tactics
Your Website will be Penalized for the life time
All the efforts are waste if your website is penalized
Your website will be ruined from the search engines ranking list
These are common disadvantages of Black Hat SEO Techniques 2022. However, BlackHat SEO Technique is not preferable for the big bloggers or the optimizers who have lots of content on their website.
Other Black Hat SEO Techniques 2022 to Avoid
We have already written a blog on Black Hat SEO Techniques. Different kinds of Black Hat SEO Techniques and their advantages are enclosed in this blog.
Now, we are updating the same blog by adding new information i.e. "Other Black Hat SEO Techniques To Avoid". These techniques will help you to detect and avoid more Black Hat SEO Techniques in your web pages and website. So, check out the "Other Black Hat SEO Techniques 2022 to Avoid".
1.Meta Tag/Meta Description Stuffing
We need to write Meta Tag & Meta Description for our web pages. While writing them we need to be careful. Do not overstuff the keywords in Meta Description for the sake of web page indexing.
Stuff keywords or irrelevant content in Meta Tag or Meta Description is considered to be Black Hat SEO Technique 2022.
2.Directory Listing
We all submit our site URLs in Directory Listing as part of Off Page SEO. But remember that, registering or buying links from low-quality websites is not a good practice.
So, sometimes Directory listing will also become a Black Hat SEO Technique if it is not done in an effective way.
3.Comment Spam
Many of the bloggers and Search Engine Optimizers will leave their blogs, videos etc for comments. Comments often have useful and engaging Content.
But some candidates will use this comment section to advertise their products. They simply drop the product links which is of no use. Blog authors need to be aware of this and check your Comment Section regularly.
Comment Spam is one of the Latest Black Hat SEO Technique 2022 where we should avoid.
4.Social Network Spam
Social Network Spam is similar to Comment Spam. We will choose some social networks for advertisements. Here we need to avoid spamming while choosing social networks.
The best advertisements use proper channels for the ads. Here spamming is a technique where our ad can place several times i.e. more than required times that too continuously.
This kind of Social Network Spam is also one of the latest Black Hat SEO Technique 2022.
5.Article Spinning
Article Spinning is a technique of escaping from producing new and fresh content. Article Spinning is an act of crafting a way of rewriting content just to avoid the duplicate content issue. The main aim is to generate new content to impress the search engines.
Instead of writing fresh content, it uses software where the single article can be written into several new articles. Obviously, the news articles are written a terrible way and there will be no fresh content. This technique is the most unknown Black Hat SEO Technique.
Conclusion
We are hereby informing you that Practices of Black Hat SEO will ban your entire website. Improve your website traffic with genuine and ethical techniques.
You can comment on your queries in the below comment box. Contact us for SEO Marketing in Vijayawada and all types of Digital Marketing Services.
Resources:
The above-posted information is gathered from different kinds of websites. We are providing the list of websites from which we got the content. You can follow those websites to know more details about BlackHat SEO.
Click Here for more details on Google's Webmaster Guidelines
Check out more info about Duplicate Content
Check out more information about BlackHat SEO Techniques
For more information on digital marketing services in Vijayawada and our packages